The TVS Kargo which is the cargo carrier of the TVS King is now available from Tuk Tuk 3-Wheelers, KM 29 Emilio Aguinaldo Hwy, Salitran 2, Dasmariñas, Cavite. Opposite Honda Cars Phone: 09515506787 or 09772336962.
The price of the pickup version which is known as the open tray version is P210,000.
The TVS Kargo is ideal for soft-drink delivery, water station delivery, general groceries, builders, egg delivery, and much more.
Cabin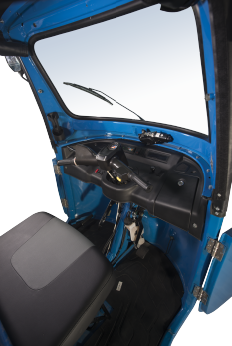 The driver's cabin is spacious so the driver can sit in a comfortable position. The roof made of high quality material will protect the driver from the sun and rain.
Engine
Duralife Engine engine technology with the placement of the engine position behind the vehicle produces greater power, the engine is more durable and more fuel efficient. The machine is designed specifically for commercial purposes "TRANSPORT GOODS AND PASSENGERS".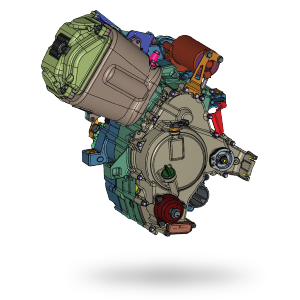 Engine Specs
Chassis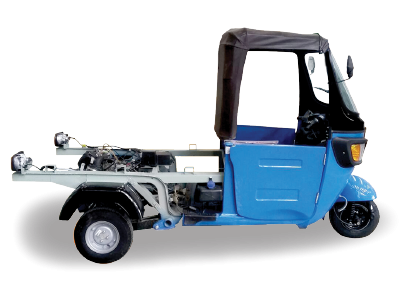 Semi Monochrome frame with the use of Trailing Arm and double shock absorbers on the rear suspension. The frame is designed to be sturdy and strong to be able to support heavy loads making the vehicle more stable, comfortable and agile in manoeuvring.
4-Stoke Engine Type, SOHC
Cylinder Capacity 199.26 CC
Single Cylinder Arrangement, Vertical
Diameter x Step 62mm x 66mm
Maximum Power 6.40 kW @ 5250 rpm
Maximum torque of 14.95 kW @ 3250 rpm
Carburettor Fuel System
4 Speed Manual Transmission System, 1 Reverse
Wet Coupling Type Compound Type
Electricals
DC – TCI Ignition System
Electric and Manual Starter System
MF – 12V 32Ah battery type
Fuel
7.5 Litre Tank Capacity
Type of Petrol Fuel 95 Ron
Dimensions, Weights, Capacity
Length x Width x Height 2930 mm x 1300 mm x 1694 mm
Dimensions of Body 1530 mm x 1320 mm x 475 mm
Wheelbase 1985 mm
The lowest distance to land is 158 mm
JBB / JBKB 645 Kg
Vehicle Empty Weight 380 Kg
Carrying Capacity 265 Kg
Suspension and Wheels
Trailing Arm Front Suspension Type
Trailing Arm Rear Suspension Type
Hydraulic Automatic Drum Front Brakes
Hydraulic Automatic Drum Rear Brakes
Front Tyre Size 4.00 – 8 6PR
Rear Tyres Size 4.00 – 8 6PR