TVS XL 100 Premium Black
At Tuk Tuk 3-Wheelers Parts and Serves Corp. we realise that when you buy a new TVS XL 100 Premium Black you want to be able to ride it as soon as possible, That is why we do the registration in just 7 days.
The TVS XL 100 Premium Black has a classic retro look with its beautiful gloss black with the gold trim creates the retro look.
Easy to Ride
You won't find a motorcycle that is easier to ride than the TVS XL 100 Premium. To start it you just press a button, check your mirrors, indicate and twist the throttle and you are away.
There are no gears to worry about so all you have to do is adjust the throttle and brake when needed. TVS XL 100 Premium. Making it an ideal motorcycle for a first-time rider.
The ease of riding the TVS XL100 means the rider has more time to pay attention to the road as his mind is not distracted by things like gears.
Please Note: While it is an easy motorcycle to ride it is important that basic road safety and rules of the road are taught before you let your son or daughter onto the road.
Ideal For Business
The TVS XL 100 Premium Black is strong, sturdy, economical and has been designed for carrying large loads.
If you go to India you will see many TVS XL 100 nipping around the crowded cities doing every kind of delivery.
But it is not just in the cities you will spot the XL100, in rural areas you will see the TVS XL 100 taking on some of the roughest roads in the world to make deliveries.
How does this relate to the Philippines? Well, India and the Philippines have something in common overcrowded cities and roads in poor condition in the provinces.  So a motorcycle that is designed to take on the streets of India is also perfect for the Philippines.
In the Philippines, couriers are starting to realise that the TVS XL 100 Premium is the best machine for the job, if you go to any Lazada Hub in the morning you are bound to see XL 100 riders loading their motorcycles to do parcel deliveries.
With a fuel consumption of 67km/L it means there is more profit for the owners as they spend less on petrol.
Load Carrying
The TVS XL 100 Premium has a split seat meaning the rear seat can be removed easily to provide more space to carry goods, it is also an ideal motorcycle to fit side saddlebags. with a payload of 130kg it means if you are using it as a courier you can carry 130 one kg packages or 260 half kilogram packages.
Durability
At Tuk Tuk 3-Wheelers we use an XL 100 ourselves for one of our mechanics in the field, it is often loaded with tools, parts and even a crocodile jack and it just keeps going. apart from changing the oil and the odd tune-up, we do nothing to it.
Daily it covers over 100km and while it does not get them there fast it does get them there in a reasonable time.
Premium Features
To keep up with modern trends and need the TVS XL 100 Premium comes with LED daylight running lights to keep you seen and a USB port so you can keep your phone charged while using it as a GPS device to find your way around, which is much needed if hitting the streets of Manila.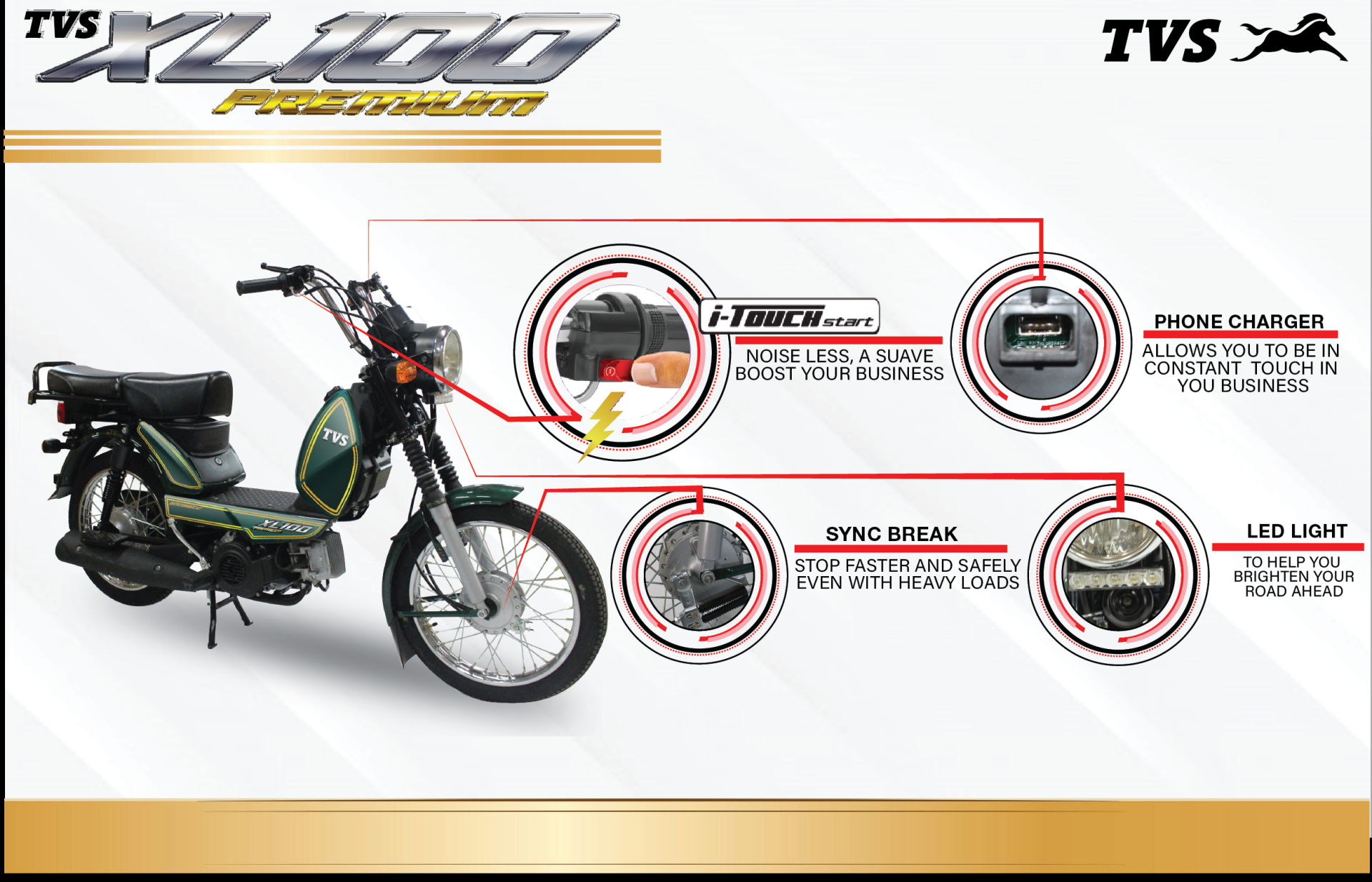 TVS XL100 Specifications
ENGINE (Euro 3 Compliant)
Type 4 Stroke Single Cylinder
Bore x Stroke 51.0 mm X 48.8 mm
Displacement 99.7 cm2 (99.7 cc)
Maximum Power 3.20 kW (4.3 bhp) @ 6000 rpm
Max. torque 6.5 Nm @ 3500 rpm
Drive
Clutch Centrifugal Wet Type
Primary Drive Single Speed Gear Box
Secondary Drive Roller Chain Drive
ELECTRICALS
Headlamp 12V-35/35W, AC
Battery 2.5 AH
Brake Lamp 12V-21W, AC
Indicator lamp 12V-10W X 4 no., AC
Speedo lamp 12V-3.4W, AC
Tail lamp 12V-5W, AC
DIMENSIONS
Fuel tank capacity 4L (including 1.25L reserve)
Wheelbase 1228 mm
Brake drum (Front & Rear) 110 mm & 110 mm
Tyre size (Front & Rear) 2.5 x 16 41L 6PR
SUSPENSION
Suspension Front Telescopic Hydraulic spring type
Suspension Rear Swingarm with Hydraulic Shocks
WEIGHT
Payload (kg) 130
Kerb (kg) 86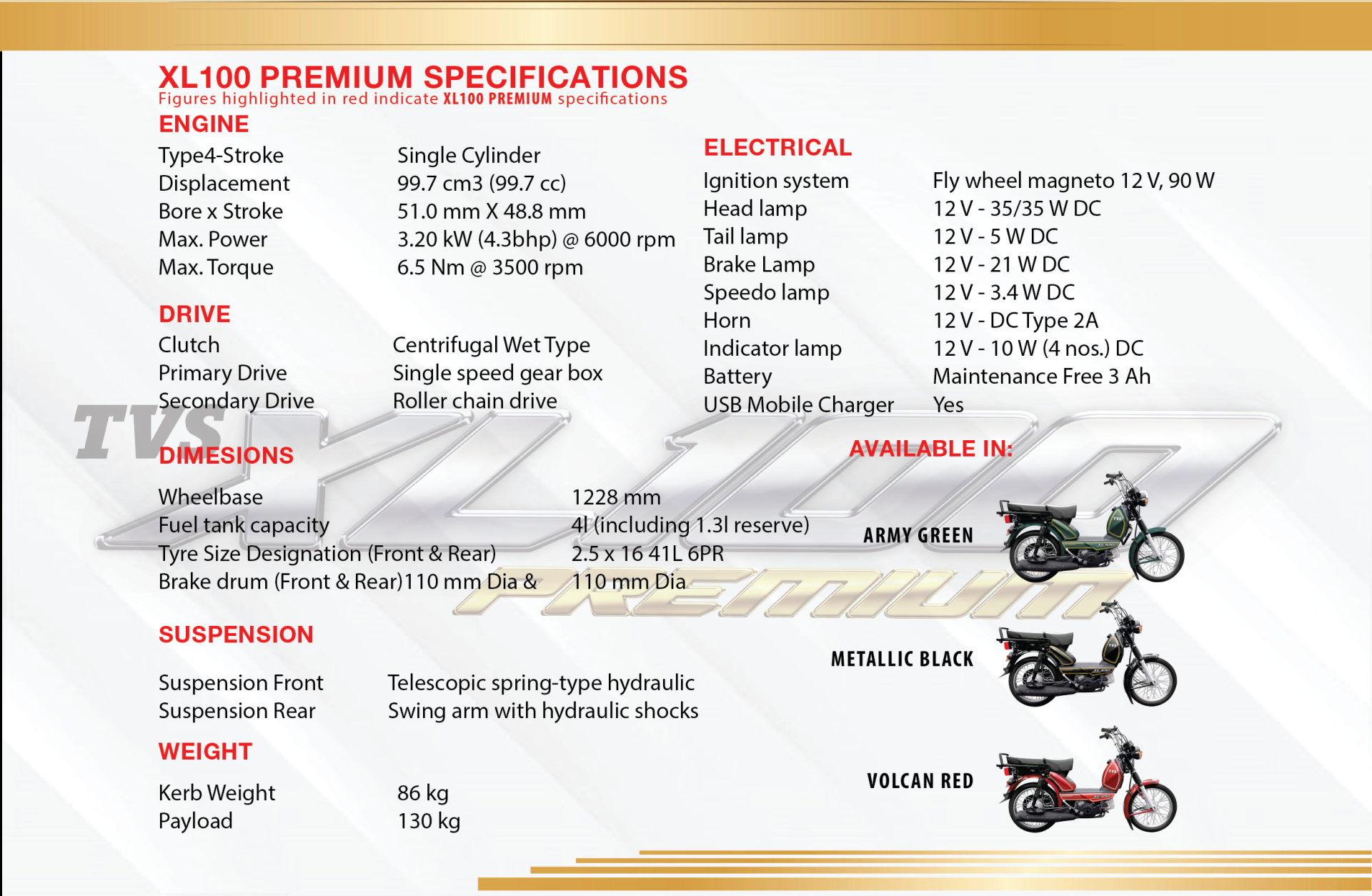 TVS XL 100 Premium Black the Perfect Motorcycle for Deliveries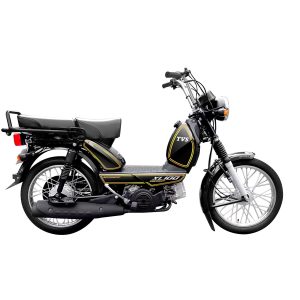 When you buy a TVS XL 100 Premium Black from Tuk Tuk you will get your OR/CR in just 7 days. The XL100 is an ideal beginers bike and is good for business.
Product SKU: XL100P-BL-1
Product Brand: TVS Motor Company
Product Currency: PHP
Product Price: 36990
Product In-Stock: InStock