The TVS Cargo which is spelt TVS Kargo is the perfect workhorse for a small business.
The 200cc 4 stroke engine on the TVS Kargo will give you all the power you need and the strong chassis give you the strength needed.
The TVS Kargo from TVS Motors is the perfect vehicle for soft-drink delivery, water station delivery, general groceries, builders, egg delivery, and much more.
Small enough to fit down the narrow streets of the Philippines but large enough to carry all your requirements.
The TVS Kargo is the TVS Cargo version of the world-famous TVS King.
TVS Kargo Engine
The 4 stroke 200cc with Duralife Engine engine technology for long life will keep your business on the road.  The engine is placed behind the vehicle to give more power to the drive wheels. The engine is more durable and more fuel-efficient.
The machine is designed specifically for commercial purposes and is a much better alternative than using a tricycle for deliveries.
The name became the TVS Kargo instead of the TVS Cargo because in Indonesia which is the biggest market for the TVS Cargo the word cargo is spelt Kargo.
TVS Kargo Drivers Cab
The driver's cab give protection from the sun and the rain and is spacious enough for the driver to ride in comfort.
Chassis
Semi Monochrome frame with the use of a Trailing Arm and double shock absorbers on the rear suspension. The frame is designed to be sturdy and strong to be able to support heavy loads making the vehicle more stable, comfortable and agile in manoeuvring.
Engine Specs
4-Stoke Engine Type, SOHC
Cylinder Capacity 199.26 CC
Single Cylinder Arrangement, Vertical
Diameter x Step 62mm x 66mm
Maximum Power 6.40 kW @ 5250 rpm
Maximum torque of 14.95 kW @ 3250 rpm
Carburettor Fuel System
4 Speed Manual Transmission System, 1 Reverse
Wet Coupling Type Compound Type
Electricals
DC – TCI Ignition System
Electric and Manual Starter System
MF – 12V 32Ah battery type
Fuel
7.5 Litre Tank Capacity
Type of Petrol Fuel 95 Ron
Dimensions, Weights, Capacity
Length x Width x Height 2930 mm x 1300 mm x 1694 mm
Dimensions of Body 1530 mm x 1320 mm x 475 mm
Wheelbase 1985 mm
The lowest distance to land is 158 mm
JBB / JBKB 645 Kg
Vehicle Empty Weight 380 Kg
Carrying Capacity 265 Kg
Suspension and Wheels
Trailing Arm Front Suspension Type
Trailing Arm Rear Suspension Type
Hydraulic Automatic Drum Front Brakes
Hydraulic Automatic Drum Rear Brakes
Front Tyre Size 4.00 – 8 6PR
Rear Tyres Size 4.00 – 8 6PR
TVS Kargo (TVS Cargo) Pickup Remarkable Power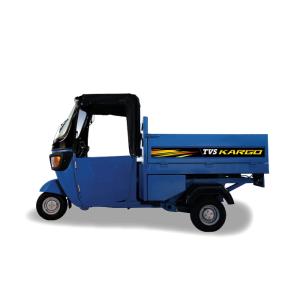 The TVS Kargo with a pickup truck style body is the perfect delivery vehicle for a small business. TVS Kargo for all your jobs.
Product SKU: G41909405R-KP
Product Brand: TVS
Product Currency: PHP
Product Price: 210000
Product In-Stock: InStock